Have confidence with your heaviest loads with our tandem offering
With a GVWR of 40,000 pounds, the Condor is an excellent choice for food service distributors, water companies and others that haul dense and heavy loads in a double or triple configuration. Count on the Silver Eagle Condor to transport your load while minimizing impact on your equipment.
Ease of handling
Highest stability
Longest life
Lowest maintenance
Smoothest ride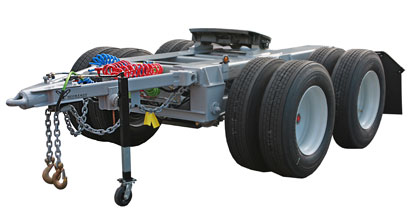 A hinged drawbar, aided by a pivoting jack with swivel caster, allows for easy hook-ups, even on uneven terrain. 
The dual-stage spring suspension and drawbar eye are mounted in rubber blocks, minimizing wear on components and ensuring a smooth, quiet ride.
Our no-slack suspension improves roll stability. Air ride option is available. 
Durable steel rails and crossmembers support maximum load weight. An e-coat primer protects against corrosion and provides a base for a durable, long-lasting finish. 
The bolted frame and drawbar eye are easily repaired without welding. There are no radius rods to adjust or wear. 
4,800 Ibs (2,177 kg) (dependant on configuration)
Formed full-length steel rails and cross members rated at 80,000 psi yield strength
Hinged drawbar measures 98″ from center of eye to center of fifth wheel. Lunette drawbar
eye is rubber-mounted in steel shock housing. Drawbar is set for 34″ hitch height
Jost fifth wheel. 48″ unladen height and roadside
release handle
Meritor TN-4671 forward axle with ABS wheel speed sensors
Meritor TN-4671 rear axle 
71 1/2″ track for 96″ wide trailer or 77-1/2″ track for 102″ wide trailer
Cast hubs for 10 stud disc wheels and outboard-mount cast steel brake drums
Meritor 16 1/2″ x 7″ Q+ S-Cam brakes with non-asbestos linings
Anti-lock braking system
5 1/2″ automatic slack adjusters
Hutch 9700 series, three leaf low arch spring
equalizing tandem suspension with 49″ axle centers
Electrodeposition (E-coat) primer
Topcoat is high quality gray polyurethane
ABS relay, emergency and pressure protection for valves
Harness: ABS sealed modular harness with rear trailer lead and replaceable receptacle
Eight (8) 295/75R 22.5 steel-belted radial or equivalent
22 1/2″ X 8 ¼" steel disc wheels, 10-stud hub pilot mount
Pre-painted white
Pivoting jack with swivel caster
Black plastic flaps with Silver Eagle logo mounted on removable hangers
License plate mounting surface on frame, pre-drilled for standard plate
Watertight Lexan document holder mounted on frame


We can match your fleet's color specifications