We deconstructed the convention dolly and rebuilt it, rock strong.
When Silver Eagle set out to build a conventional dolly, we looked at all that was out there and engineered from the ground up. The resulting Falcon is a lean, muscular and strong dolly that delivers a lot of pulling power with limited bulk.
Super strong drawbar
Ergonomic design
Lowest maintenance cost
Superior corrosion resistance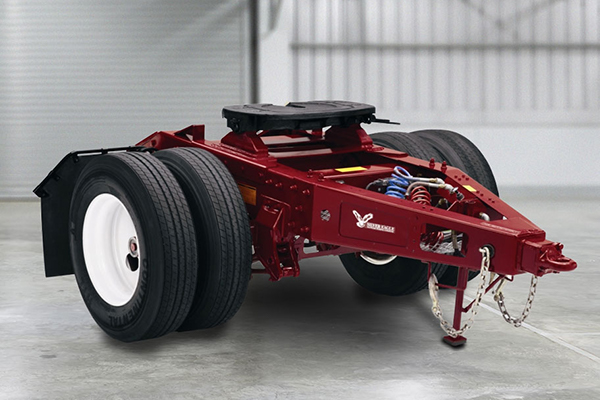 The reinforced drawbar is made to take abuse and still be easy to pick up by hand – engineered for a 50 lbs. lift off.
Counter-balanced for ease of lifting the drawbar. Easy access to air system ABS and other components is provided to reduce strains and injuries. Air lines, fittings and valves are mounted where they can be easily accessed.
Pickup ramps are integrated right into the Falcon's frame, allowing you to easily scoop up your lowest trailer
EASIER REPAIRS AND ADJUSTMENTS
A technician's dream — the Falcon can be adjusted and maintained from a standing position! And because the drawbar is Huck-bolted, it can be replaced without cutting or welding
Extraneous weight has been engineered out of the Falcon, creating a super-strong dolly that weighs less and allows you to haul larger payloads
Formed steel channel drawbar and frame
78″ center of eye to center of fifth wheel
Huck-bolted Premier induction-hardened lunette eye
Drawbar set for 34″ hitch height with bolted main joints
Jost Fifth Wheel
Roadside release handle
48″ unladen height
Meritor 5″ round, tapered spindles
SAE 80W-90 oil
Stemco Guardian seals
Type-30 chambers.
Cast hubs for dual 10 stud
Two hand hole steel disc wheels
Outboard mount cast iron brake drums
Meritor 16 ½" x 7″ Q+ S-Cam brakes with non-asbestos linings
Anti-lock braking system
5 ½" automatic slack adjusters
Hutch 9700 series, two leaf high arch springs
Electrodeposition (E-coat) primer
Topcoat is high quality gray polyurethane
ABS
Sealco relay emergency pressure protection
Anti-false charge, push-pull (hostling) and check valve. 
Steel air reservoir
Straight rubber front, coiled color-coded rear air lines/glad hands
Two 4″ 12-volt incandescent stop tail lamps
Rubber grommet mounted
Sealed Phillips System modular harness with two frame-mounted replaceable 7-way sockets
Two 10″ light cables.
Four (4) 295/75R 22.5 steel radial 14 ply or equivalent
22.5" x 8.25" steel disc wheels
10-stud hub pilot mount
Black plastic flaps with Silver Eagle logo mounted on Betts 5/8" coiled 45 degree hangers
Steel Stiff leg with replaceable rubber pad
Two ½" grade 70 chains with 5-ton hooks
Watertight Lexan document holder
We can match your fleet's color specifications. Also available in galvanized.