The highest performing dolly in the trucking industry
The Eagle's sturdy design and revolutionary bolt-together frame provide superior ride and stability, lower maintenance costs, better handling, and up to 16% longer tire wear. Look at this list of benefits you'll have a difficult time finding on any other dolly:
Ease of handling and safety
Smoothest ride
Highest stability
Durability and long life
Longest tire life
Worry-free fifth wheel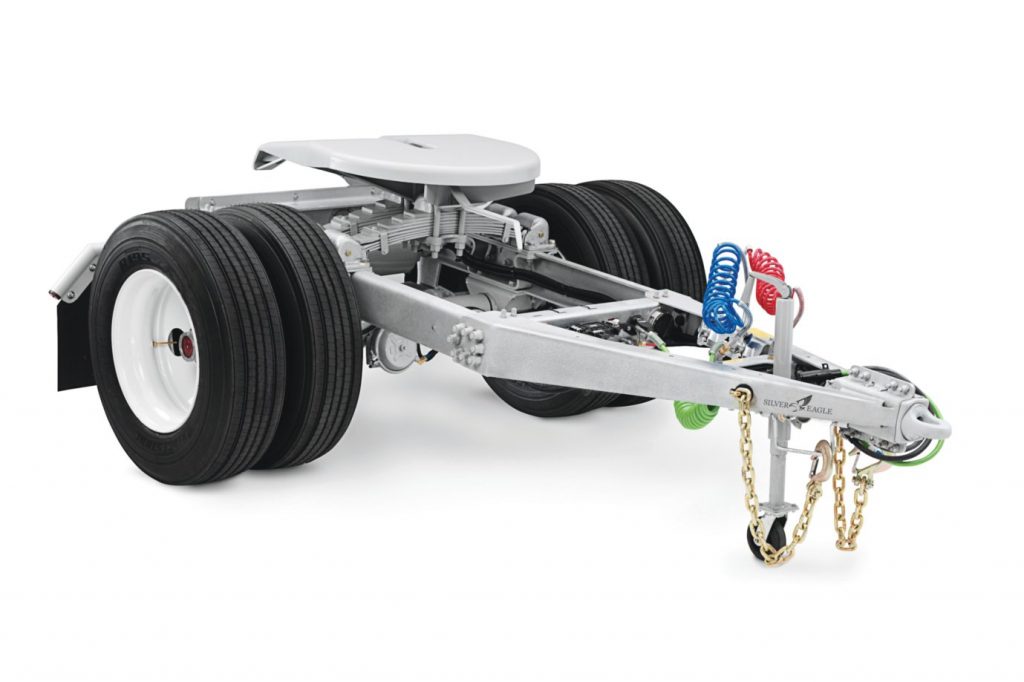 EASE OF HANDLING AND SAFETY
At last, a dolly that's easy to move. We engineered drawbar weight and counter balance into the Eagle dolly to give it superior balance. 
The two-stage, traverse leaf spring suspension system ensures the smoothest spring ride on the road – loaded or empty.
Imagine having 18% better protection against rollovers. The Eagle has a "no slack" suspension utilizing transverse springs mounted on the frame and suspension components mounted in rubber "isolation blocks." Together, this eliminates free play and improves stability against rollovers. This built-in stability creates better tracking while diminishing sway or unusual "wheel hop" because the load is pulled directly from the axle, rather than through a platform mount. 
Built to last for years. The Eagle utilizes 1/4″ steel construction that essentially doubles the strength of our drawbar. Additionally, an 11-stage e-coat priming process protects against corrosion and provides a base for a durable finish that resists rust 400% longer than competitive coatings. 
Your tires will last 16% longer with Silver Eagle dollies, giving you significantly more cash in your pocket over the life of ownership. Cambered and toed-in axle alignment provides for alignment under dynamic load and return steering characteristics. Silver Eagle rigid drawbar acts as a torque arm. Starting and stopping torque applies against the axle and, accordingly, no axle and spring windup occurs during braking. This feature strongly contributes to Silver Eagle's longer tire mileage. 
Our exclusive fifth wheel includes a front pull handle that allows dolly hook-up from the side of the trailer, rather than under. Additionally, the fifth wheel:
Visually shows when king pin is captured, reducing high-pinning mistakes
Requires half as much exertion to open the jaw
Lowers workman comp claims because it lessens strain on muscles and joints and reduces exposure to back, shoulder, arm and neck injuries
Assures clean uniforms
Produces more productive drivers
Formed steel channel drawbar and frame
78″ center of drawbar eye to center of axle
Drawbar eye is rubber mounted in steel shock housing. Drawbar set for 34″ hitch height
36″ fabricated steel table with cast steel center section 
Roadside release handle 
Fifth wheel mounted directly over centerline of axle
Meritor TN 4671, 5″ round with N-spindles
22,500 Ibs installed to set toe-in at 1/16″/71 ½" track for 96″ or 102″ wide trailers
Cast hubs for dual 10 stud
Two hand hole steel disc wheels
Outboard mount cast iron brake drums brake drums
Meritor 16W' x 7″ Q+ S-cam brakes with non-asbestos linings
ABS Type 30 service chambers with stroke indicators
Automatic slack adjusters
7-leaf, two stage springs with rebound leaves
Transverse-mounted over axle
Spring eyes are secured in rubber mounting blocks
Steel shot blasted frame and fifth wheel, treated with an 11-stage epoxy primer (E-coat)
Top coat is high-quality gray polyurethane
ABS relay, emergency and pressure protection valves
Anti-false charge, push-pull (hostling) and check valve
Two 4″ 12-volt incandescent stop tail lamps
Rubber grommet mounted on rear frame
Four (4)  295/75R 22.5 low profile steel radial
Load range G
22.5″ x  8.25″  steel disc wheels
10 stud hub pilot mount
Pre painted white enamel
Black plastic flaps with Silver Eagle logo mounted on removable hangers
Steel stiff leg with replaceable rubber footpad
We can match your fleets' color specifications. Also available in galvanized.
We can match your needs from 72″ to 102″
POLYURETHANE

Spring Boots
For safety and turn signals.